Frequent SQL Database Recovery to Revive Inaccessible SQL Elements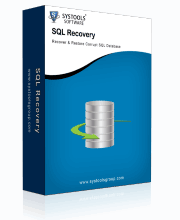 Have you seen error 823 on the computer screen while you were working with SQL Server database?
Are you fed up because of incorrect results after execution of any query in SQL Server?
Such annoying issues might come in front of you during usage of SQL Server execution. Annoyance in SQL database can take place anytime because of inconsistency or damage in SQL tables, columns, rows, triggers, stored procedures, etc. For resolution of all the errors and problems in SQL databases, our SQL Database Recovery software is good enough because it is added up with all the facilities for SQL MDF data recovery.
How to Perform SQL Server File Recovery for Error 823?
2010-03-06 22:41:19.55 spid58 Error: 823, Severity: 24, State: 2. 2010-03-06 22:41:19.55 spid58 The operating system returned error 38(Reached the end of the file.) to SQL Server during a read at offset 0x000000a72c0000 in file 'C:\Program Files\Microsoft SQL Server\MSSQL10.SQL2008\MSSQL\DATA\my_db.mdf'. Additional messages in the SQL Server error log and system event log may provide more detail. This is a severe system-level error condition that threatens database integrity and must be corrected immediately. Complete a full database consistency check (DBCC CHECKDB).
The above mentioned error is named as error 823 for SQL Server that halts SQL Server execution or puts you in irritating situation. It makes a call for using DBCC CHECKDB command though which you can recognize the cause of encountering this error. To get your data back from inaccessible or corrupt SQL files after encountering error 823, you will have to use our powerful SQL database revival application because not any built solution can help you to short out the issue completely and without performing instant SQL database recovery, you cannot get the data back as it is.
Causes: This error might come across because of SQL Server corruption or input/output errors in the SQL database. The main cause of such error is file system inconsistency.
Get Secure Solution for SQL Data Recovery 2005
If you really want to acquire entire SQL database as it is after SQL MDF data recovery then, purchase our SQL database recovery software in full functional mode or you can utilize remote software installation services via contacting to support section.